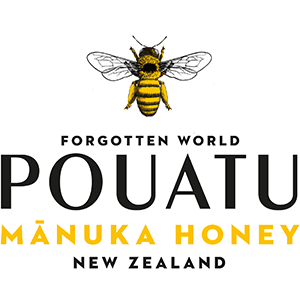 Pouatu Manuka Limited
Pouatu Manuka
Pouatu Mānuka is a boutique honey company from New Zealand's Taranaki region in the central North Island. Home is an isolated paradise called Tangarakau, within the Forgotten World. The Forgotten World is unspoiled by man, a sanctuary for our bees and a perfect environment for creating one of the world's finest single source honeys – Pouatu Mānuka.
Named after a nearby prominent landmark, Mount Pouatu – and surrounded by native forest, the property has been passed down through the generations to our head beekeeper Simon Faull and his family. Our dedicated team loves what we do, and that extends to supporting our local community and ensuring the health of our Mānuka trees and bees for future generations.
Pouatu Mānuka produces a range of award winning mono-floral Mānuka and Forest honeys. We don't blend from other regions around New Zealand. Our intention is to capture the flavour of one place – the Forgotten World. Pouatu Mānuka pursues a subtle, gentle flavour profile with a smooth, velvety texture and finish and unlike other traditional dark Mānuka honey, Pouatu Mānuka is a pleasing light amber in colour.
Pouatu Mānuka offers their range of UMF™ certified Mānuka honey in the traditional amber plastic jars, as well as award winning glass jar and designer gift tubes. Our award winning Forest honey is something we are also particularly proud of.